The period after the Civil War, when Brooks moved out of their Cherry Street birthplace and started to swim upmarket in earnest, is a very interesting time in Brooks history.



(Daily Princetonian, December 5, 1890)

Here's an interesting ad for "double-breased sack suits of rough and smooth faced cheviots", "free from any stiffness of appearance"... Did the Brooks double-breasted sack arrive before the introduction of the No. 1 sack suit?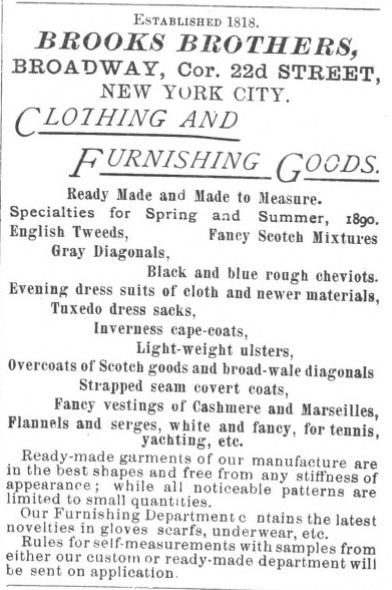 (Daily Princetonian, June 9, 1890)

"Tuxedo dress sacks". 1890 seemed to be when Brooks became interested in advertising in the Ivy League papers -- these same ads were running in the Yale Daily News as well.
Last edited by katon (2013-03-11 21:56:52)