Sock it to me
I like these Italian made socks I've been buying from a French outfit https://www.lechaussetier.fr/9-mi-bas-e … haussetier

They have a good variety of colors and make the socks in mid and full-calf and in two different foot sizes. I have a big calf and the 43/45 over the calf size fits me very well. Wool socks are thinner than Pantherella's but are nice for summer, especially if you have a foot that perspires a lot and find that cotton socks stay moist and allow your foot to chafe against your shoe.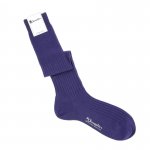 Anyone have any sock suggestions?
---
Le costume fait sur mesure en tissue Fresco est le préféré des ploucs!
Facebook: FNB Dandy Twitter: @DevilsIslandFNB Instagram: fnbdandy